bot can't use Crystal elixir or Holy Bible Elixir in alchemy ?
@Ryan can phbot use them ? another bots use them
I've never even heard of those.
and make it use lucky magic powder too please
Can you please add holy Bible elixir and Crystal Elixir in selecting an elixir instead of just using ordinary elixir, we need it for higher rate of + PLUSing an item. just put an option like downmenu compose of 1) Ordinary Elixir, 2) Holy Bible elixir, 3) Crystal Elixir. Im playing Arcanevii Silkroad by the way. and if u can add lucky scroll (5%) for another option like checktab.
HOW TO CHANGE THE ELIXIR CODES? I ALREADY HAVE THE ELICIR CODE I NEED, BUT HOW DO I EDIT IT IN MY PH BOT?
It's not going to support some custom elixir that they added.
i have the same issue here I wonder if there is a way to add the custom elixirs we want to use like a select list for each item on the plus window we can even add the code somewhere in ini file if needed like some sort of an array list.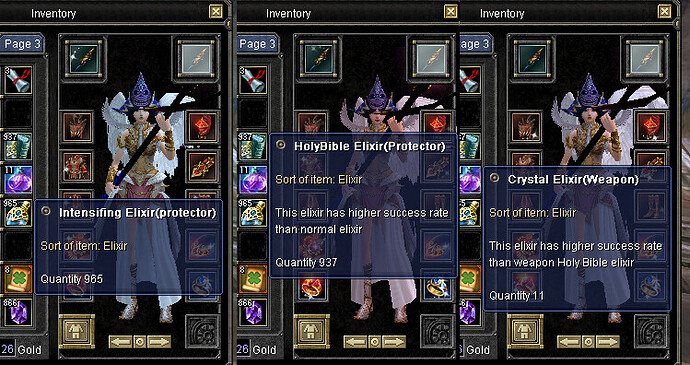 custom elixirs are not supported u have to ask your game gm to make normal type of elixirs not these goofy names
literally all private servers 12-15degree have these elixirs…